---
2002
More than 20 years of industry experience
Create and share a green future
Quanzhou Dongsheng Plastic Products Co., Ltd. is a recycling and processing terminal enterprise with comprehensive utilization of environmental protection renewable resources. Main recovery scope: polyethylene (high pressure) white film, polyethylene (high pressure) variegated film, polyethylene (high and low pressure composite) white and variegated film, polyethylene (low pressure) plastic bottle and hollow barrel. Polypropylene (white, variegated) woven bag. Polyethylene terephthalate (PET) beverage bottles, foam leftovers and other engineering waste plastics. It has cooperated with many renewable resource recovery companies and waste plastic recovery companies for many years. Due to the nature of our processing and production, we can avoid other obstacles in the intermediate links. Our company uses the renewable resources of waste plastics as raw materials to realize resource utilization, which not only reduces production costs and improves the economic benefits of enterprises, but also actively contributes to the protection of human environment.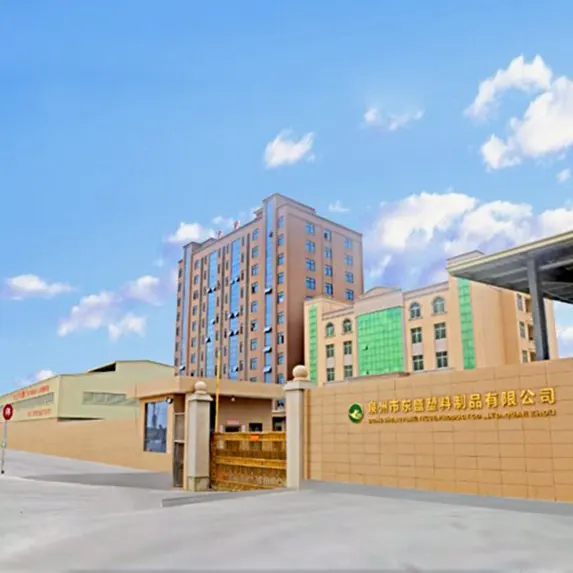 Quanzhou Dongsheng Plastic Products Co., Ltd. is a wholly foreign-owned enterprise located in the international garden city of Quanzhou. The company has a strong technical force, specializing in the production of PE polyethylene recycled rubber and PE, CPEIPEVA plastic environmental protection film research and development, garbage bags, agricultural film, shed mold manufacturing and sales. The company was founded in October 2002, with a plant area of 60 mu. The production environment is beautiful, with three leading joint venture casting production lines and more than 20 sets of plastic granulators.
The company adheres to the business philosophy of "quality first, credit first", takes quality as the life of the enterprise, and aims to create first-class brand products. Rubber granule products are applicable to foaming shoe materials, film blowing, pipe blowing, injection molding sheet materials and casting products. PE, CPE and PEVA plastic environmental protection films are applicable to: clothing packaging bags, gift bags, hand bags, raincoats, umbrellas, tablecloths, bath curtains, etc. The products are exported to home and abroad, and are well received by customers at home and abroad. The company has continuously optimized its internal mechanism, expanded its business scope, increased its business expansion capacity and improved its service quality.
We sincerely expect customers at home and abroad to come to negotiate.